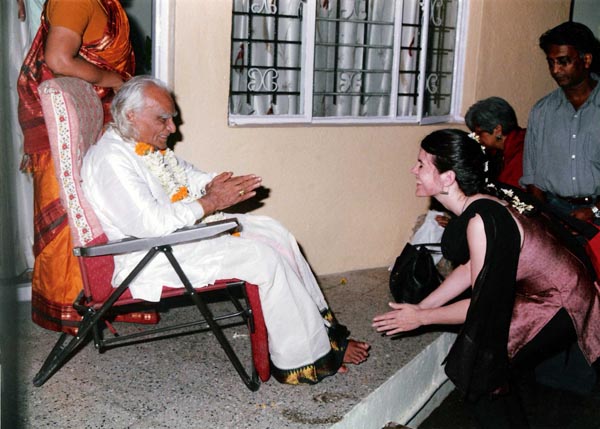 In loving memory of BKS Iyengar
December 14th 1918-August 20th 2014

There is NO CLASS on Monday 6 July 2015.
Spring/Summer Classes start Monday, May 4th. See the updated Schedule and check out the new Friday afternoon class at Down Under.
You can now pay for some classes and privates by Credit Card with PayPal.

Become a member of the New England Regional Association of Iyengar Yoga (IYANE)
Click HERE for membership information..
Nancy Turnquist is a certified teacher of Iyengar Yoga at the Junior Intermediate II Level. She completed a two year Iyengar teacher training program with Patricia Walden with whom she continues to study and work with closely. Nancy travels regularly to Pune, India to study with the Iyengar family and spent a year teaching yoga in Spanish and studying with Jordi Martí at the Center for Iyengar Yoga in Barcelona, Spain. Nancy has a masters degree in literary translation and welcomes Spanish speakers to her classes. Her teaching is inspired by the joy and skill that arise from the practice of yoga.

Nancy also teaches private lessons. If you are interested, please call or email.
Spring/Summer 2015 Class Schedule::
Art & Soul (#91 Hampshire St., between Kendall and Inman Squares)

Mondays 6:00 - 7:30pm
All Levels. Beginners and advancing students welcome.


Session 1 - May 4 - June 29
May 4, 11, 18, (No Class May 25)
June 1, 8, 15, 22, 29
8 weeks, $120/series, $18/drop-in

Session 2 - July 12 - August 24
Please Note that As of July 1st class will meet 5:30- 7:00 pm
July 13, 20, 27
August 3, 10, 17, 24
7 weeks, $105 series, $18/drop-in.


View Larger Map

BKS Iyengar Yogamala Classes at:
Down Under Yoga, 1054 Beacon St Brookline, MA 02446

Saturdays 9:45 - 11:15 am
Level I. Beginners and advancing students welcome.

Class meets at Down Under Yoga, 1054 Beacon St Brookline, MA 02446

$18/drop-in. Purchase a 10 class pass for $160 and register on their website for this class for the dates you plan to attend. See their website for offers for unlimited classes and student rates.




View Larger Map
Nothing scheduled at this time. Check back again for updates.
BKS Iyengar Yogamala of Cambridge
The website for Patricia Walden and the BKS Iyengar Yogamala center without walls.
Yogamala Blog
The BKSIYM blog site. Here you can find news, images, and thoughts on yoga.
Official BKS Iyengar Website
The official website of BKS Iyengar. A wealth of information on the man and Iyengar yoga tradition.
Iyengar Yoga Association of the US (IYNAUS)
The website for the National Iyengar association. A source for locating teachers and learning about Iyengar Yoga in the United States.
The Iyengar Yoga Association of New England (IYANE)
The website for the newly formed New England regional Iyengar association.
To register for a local class session or workshop other than at Down Under, please bring a check for the full cost of the session or workshop to any of Nancy's classes. You may also email Nancy for a mailing address. Pre-payment and registration guarantees your space. Drop-ins are welcome but are on a first-come first-served basis. For more information please email or call.

Telephone: 617.599.8486
Email: nancy@yogaoffering.com
© 2015 Nancy Turnquist
Updated 4 May 2015
webmaster